Saturday, November 24th, 2018
AMERICA'S COLD CIVIL WAR
by Charles R. Kesler  Editor, Claremont Review of Books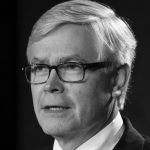 Charles R. Kesler is the Dengler-Dykema Distinguished Professor of Government at Claremont McKenna College and editor of the Claremont Review of Books. He earned his bachelor's degree in social studies and his A.M. and Ph.D. in government from Harvard University. A senior fellow at the Claremont Institute for the Study of Statesmanship and Political Philosophy and a recipient of the 2018 Bradley Prize, he is the editor of several books, including Keeping the Tablets: Modern American Conservative Thought(with William F. Buckley Jr.), and the author of I Am the Change: Barack Obama and the Future of Liberalism.

The following is adapted from a lecture delivered at Hillsdale College on September 27, 2018, during a two-week teaching residency as a Eugene C. Pulliam Distinguished Visiting Fellow in Journalism.
EXCERPT FROM THIS ARTICLE : Until the 1960s, most liberals believed it was inevitable that their living Constitution would replace the conservative Constitution through a kind of slow-motion evolution. But during the sixties, the so-called New Left abandoned evolution for revolution, and partly in reaction to that, defenders of the old Constitution began not merely to fight back, but to call for a return to America's first principles. By seeking to revolve back to the starting point, conservatives proved to be Newtonians after all—and also, in a way, revolutionaries, since the original meaning of revolution is to return to where you began, as a celestial body revolves in the heavens.
The conservative campaign against the inevitable victory of the living Constitution gained steam as a campaign against the gradual or sudden disappearance of limited government and of republican virtue in our political life. And when it became clear, by the late 1970s and 1980s, that the conservatives weren't going away, the cold civil war was on.